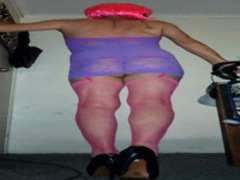 User Information:
Username:
K9sRoxiSlutz88
Sexual Orientation
: Gay
A little about me...
Stay in Touch,EveryOne & AnyOne Out There in this place of (Luxure_Tv) that 2 ME anyways it's simply "Planet🌏Taboo's!" As it's so very Awesomely Nwty and most definitely it's just Unbelievablely Dirty, while everyone or anybody involved who's either a Member, Poster, Watcher or Performer are Completely Perfect and Totally Sexy,Sleazy,Slutty,whether on 2Feet or 4Paws,know this alright Like👍, Luv💖, Lust🤤 You All! So then "Luxure_Tv" I'll Be Back, So Don't Forget Too, Lick,Kiss,Spank,Bite,Wank,Suck, Fck,Pound,Knot&Pump Each Other! Woof🐺Woof Oh Yeah, Too Any & All K9 Owner's Wishing, Wanting or Willing 2 have their FurBoyz 2B Pleased & Pleasured, Endlessly by little old Xdressing Me! Hit Me Up, either Here by leaving a msg or E-mailing Roxi here on, (
[email protected]
) The Sluttiest, Nwtiest, Dirtiest male to female Cross-dressing SLUT & who's Absolutely Obsessed with Any Thing & All Thing's K9s/Dogs/Beasties! hehehe Roxi_K9🐩Slut_Sands aka - "FckToy" 4 doggie's aka - "K9sWhore" 4 Hire aka - "Breedn'Bitch" 4 DogPacks Oh yeah Everyone, my other Secretive Nwty & Dirty Lustful Luv💖 is "Incest" (The Game the Whole Family can Play!) Lol started with Bad Big Brother & my much Younger Little Sister, then years later as a Dirty Daddy, with my Son and one year later Dirty Daddy got his Daughter, A Too Gear or Know more msg me anytime Ok
K9sRoxiSlutz88's Recent Uploads
User has not uploaded anything!
K9sRoxiSlutz88's Friends
You do not have any friends added!